Time to upgrade the old trolley
The case for a new location trolley
I know a lot of photographers who have back pain thanks to a career of carrying heavy equipment for long periods of time, loading and unloading countless cases and bags, crawling around on the ground to get low angle shots or craning their necks and backs to operate an elevated camera or light. When budgets allow, I hire an assistant to share some of this work but, thanks to the pandemic, limitations on the number of people allowed in indoor spaces has meant that I have had to do most interior shoots on my own and literally shoulder all the carrying myself.
I have had a small folding trolley for years which packs completely flat and carries two or three square shaped cases but as soon as you put a couple of tripods, light stands or reflectors on it, the whole thing becomes totally unstable. I needed a solution that could carry everything I required in one go without tipping over and that would be reasonable compact when stored.
My research
I have not gained commercially from writing this, I just felt that I should share my research and experience and possibly save others some time as well as visits to the chiropractor.
I recall when I first started carrying a lot of equipment around in the 1990s, the professional photography shop KJP, which became Calumet published a huge A4 professional catalogue which devoted a couple of pages to location trolleys. It would have saved me a lot of time and effort if I had kept one of those old catalogues, The products listed in the catalogue had all been selected with the photographer in mind, they were strong, could take a lot of abuse and would fold up to go in the average car. When I Googled location cart / trolley or photographer's trolley most of the results were bulky, cheap, unstable or just not fit for purpose. I thought I would do an image search with the aim of finding something that looked similar to the images I remember from the old KJP catalogue. Eventually, I found a review of folding carts for festivals which included the Dura-cart, a British made folding cart made from aluminium that looked quite tough and folded up for storage or transport in a car. The Dura-Cart was 90 cm wide when in use which would go through my garden gate but not the front door of my house. The Dura-Cart site clearly described the product and its features but before I press the 'buy now' button for a product of this value on an unfamiliar website, I like to see a physical address or other business information on the website. For the reassurance of the Amazon buyer protection programme, I purchased the item from the company via the  Amazon Marketplace. The trolley arrived on a Saturday, the day after it was ordered.
UPDATE 24/10/21
The Dura-Cart site seems to be down and Amazon is out of stock. Hopefully this is a temporary issue and they will be available again. I will update this post if I hear anything. 
After sales
The after-sales service from Dura-Cart was brilliant, I had a couple of questions about the item which I emailed  on the Saturday expecting a response no sooner than the following Monday. Craig from Dura-Cart answered my email first thing on a Sunday morning!
Setting up the Dura-Cart
The cart takes seconds to unfold, basically you move the wheels away from each other, unfolding the chart and creating a flat base. There are two identical aluminium panels, one for the back, one for the front. These slide into grooves which stops the cart from folding up. The handle which is in two parts can then be released from its stowed state and secured with a locking bolt. Four bolts attach the handle to the cart when in use.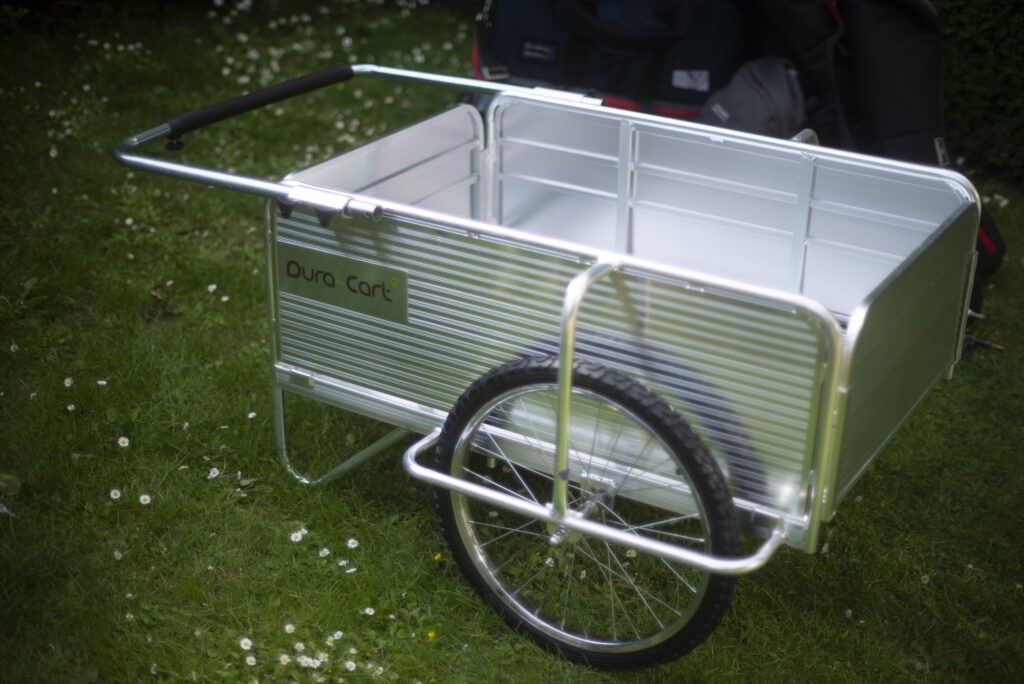 In use
My first job for the Dura-Cart was filming at the Bristol Robotics Laboratory in Bristol. My kit for the job included; a camera case, lenses, two lighting kits, large black drapes, a pop-up green screen, stands, tripods, sound mixer, blimp, clips, tapes, laptop, and extension cables.
The trolley carried all of the equipment without issue, the lighting stands were too long to sit inside the cart so they had to lay on the top in a soft stand bag. To keep everything in place, I used bungees wrapped around the tubular frame of the Dura-Cart.
The cart carried everything I needed with room to spare. It was stable and would go through most doors in commercial spaces. While I mainly bought the trolley for interior location work, its stability and large wheels would also be useful in shifting equipment to some exterior locations and provides a working platform above the dirt, dust and mud.
On my second trip to the location, I added a ladder, a soft box, a dolly and a ski bag (holds the track for the dolly). Securing everything with bungees the trolley carried everything with ease though the tyres show some evidence of the weight they are carrying.
The cart in storage
When folded the trolley is about a quarter of its working width. While the trolley is mostly made from aluminium, it is still quite awkward to carry when folded. It is possible to wheel it in its folded state on flat ground if you are moving it through narrow doorways etc.
The two end panels must be removed when the trolley is folded. I couldn't see any obvious places to store the panels and could imagine them being separated in my sometimes chaotic studio. To try to keep them together, I used heavy duty clips to pinch the panels against the side of the trolley next to the wheels. These clips are used a lot on set to secure drapes, cables and reflectors so it is good to put them to work as they are coming with me anyway.
Summing up
I believe that if I had saved the money and bought one of the cheaper 'festival'  trolleys I would soon be suffering from buyer's remorse. While the Dura-Cart is considerably more expensive than most of the other folding trolleys, I believe it is well made and should endure the rough and tumble of daily use. When things return to normal, I believe my assistants will also thank me for it.